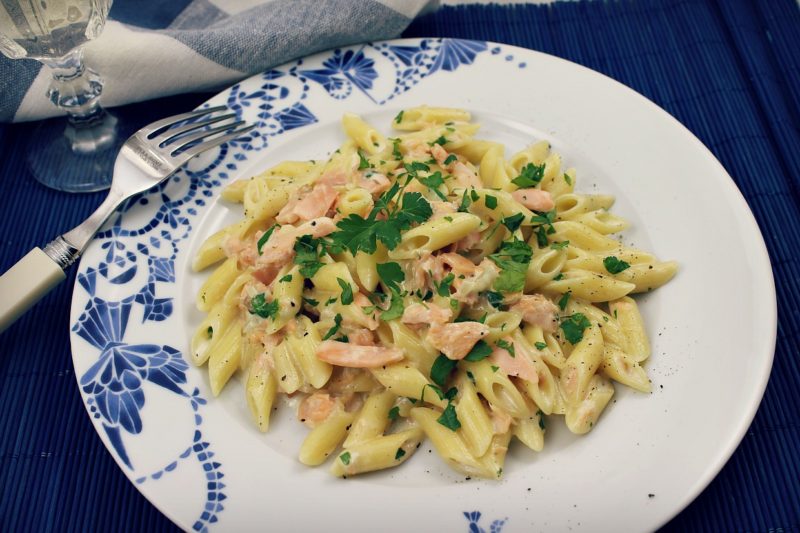 Salmon pasta (penne al salmone), another classic, rich recipe that can be prepared in just a few minutes. There are different variations on the same subject: With fresh salmon or with smoked salmon; some people add tomato, some doesn't but, of all the different variations I have tried,
this
is the one that I liked the most, although I have made some changes, such as adding a touch of cognac.
Salmon has a very intense flavor and, since this is a preparation in which it's almost the only ingredient, I think it is a good idea to add something that makes the dish a little bit more complex. The intensity of the perfume and taste of cognac, even in a very small quantity, give the recipe a touch that makes the sauce more elegant, not so fleshy.
I added a little more cream to the sauce and, especially, cooking water, because otherwise it is a bit dry for my taste. I have calculated 80 grams of pasta per person, although I usually prepare more generous portions. It is a sauce with cream, and fills more than a lighter sauce. On the other hand, I have not decreased the amount of salmon from the original recipe, because otherwise it would be a little poor. As for the shallot, I've used it instead of the onion because I personally think that with salmon it is better.
I hope you like it 😉
Salmon pasta (penne al salmone)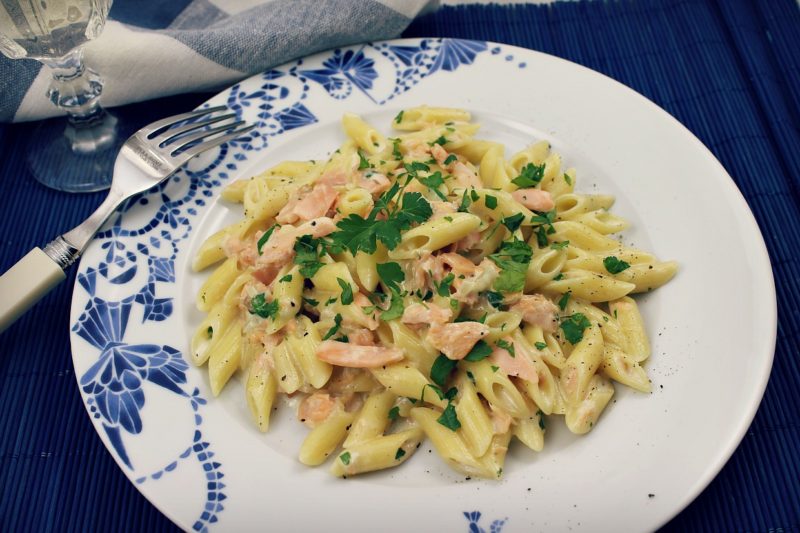 Autor: La ragazza col mattarello
Cuisine: Italian
Recipe type: Main course
Número de raciones: 4
Tiempo de preparación:
Tiempo de cocción:
Tiempo total:
Ingredientes
320 g of mezze penne rigate or penne rigate
200 g smoked salmon
1 shallot
40 g of butter
200 cream for cooking
25 ml of cognac
Black pepper
Parsley
Instrucciones
Put the water to boil for the pasta, because the sauce is done in the blink of an eye.
Poach the shallot, cut it into very small pieces, with the butter, over low heat, until it's golden brown.
Add the salmon to the pan and raise the temperature to medium heat.
When the salmon has changed color, add the cognac to the pan and wait for the alcohol to evaporate, two minutes approx.
Turn off the heat, add a pinch of pepper and chopped parsley to the salmon and add the cream to the pan. (Surely it will not be necessary to salt the sauce, since the smoked salmon will already have done it for you, anyway, try the sauce, see if it needs more salt).
Strain the pasta when it is almost al dente, saving a couple of tablespoons of cooking water.
Add the pasta and the two cooking water scoops to the pan with the sauce.
Return to light the fire and sauté the pasta with the sauce for a couple of minutes, until the cream begins to thicken a bit.
Serve with a little chopped parsley over the pasta.
---