A simple, delicate recipe, typical of the Ligurian coast in Italy, intended to exalt in all its glory the star of the dish: the fish. A light meal, suitable even for people on a diet, but especially dedicated to those of us who like to enjoy seafood without disguise. Because with 4 tomatoes, a clove of garlic and 2 other silly things you don't need to cook a fish in style anymore!
The other day I was lucky enough to get my hands on a wild gilthead bream and decided to prepare it this way, but in its place, a sea bass or a hake would also be delicious.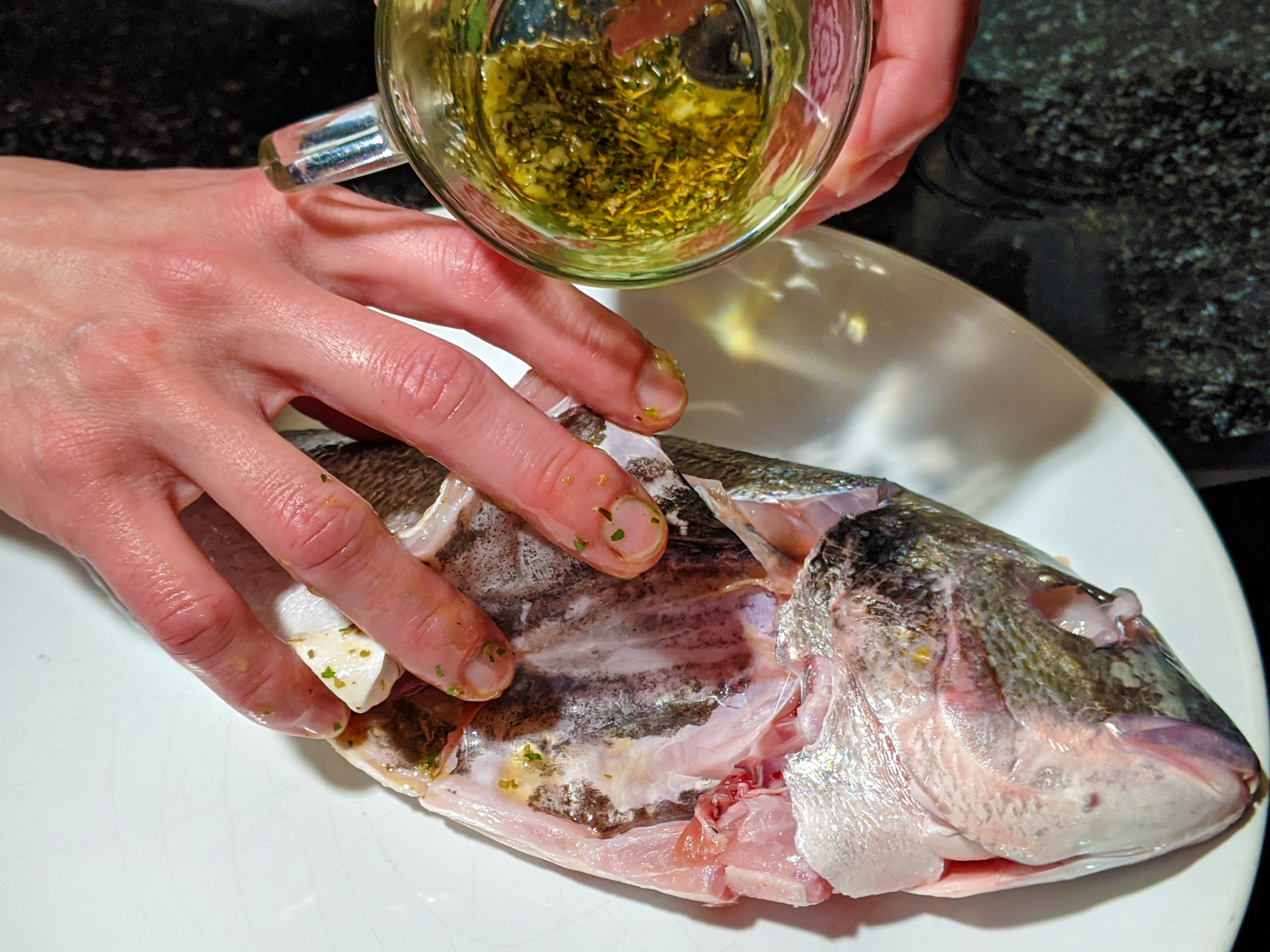 I don't usually prepare many fish recipes for the blog, because I most enjoy it grilled or in simple and universal ways, which everyone knows. I must also admit that I do have a respect for fish, that I don't have for other types of products: if it is not perfect, I get very grumpy and feel terribly guilty.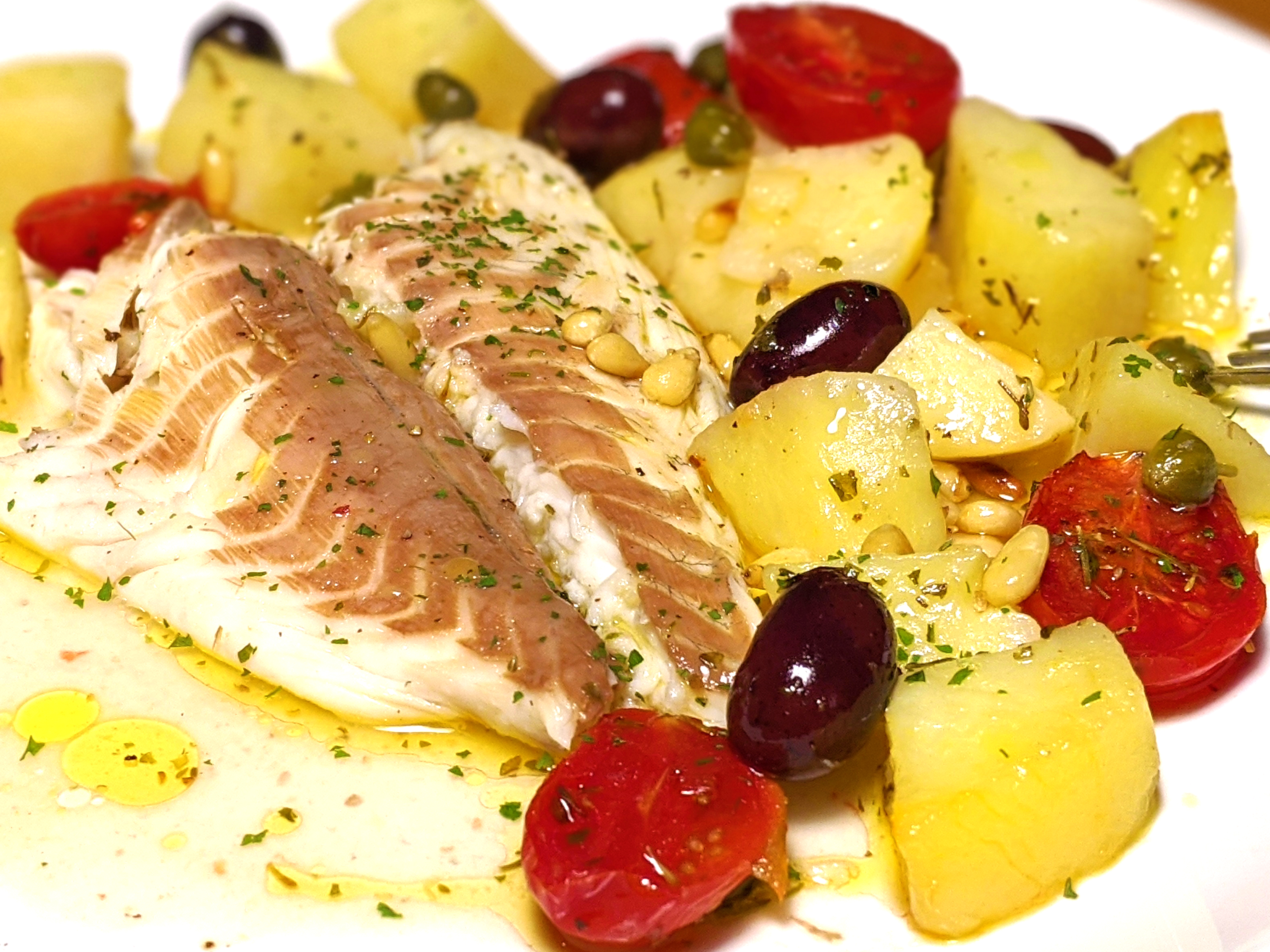 I suppose it comes from the fact that, when I was a child and because of family tradition, some good prawns, a monkfish or some Galician clams were the real Sunday meal, the one for celebration. We didn't eat often, because my father only bought/bought high quality stuff and, of course, it cost a lot of money and we are a big family. But well, I'm going to solve it and I already have a few fish recipes that I will hang up, which one is more delicious.
By the way, do you also like grilled fish or grilled fish, with the minimum, or do you prefer it in more elaborated dishes?
¡Buon appetito!
The card
Baked gilthead bream (orata alla ligure)
A simple, delicate recipe, typical of the Ligurian coast in Italy, intended to exalt in all its glory the star of the dish: the fish.
Print recipe
Ingredients
1

gilthead bream of 450-500 g

8

Pear or cherry tomatoes

1

teaspoon

Capers

1

clove

Garlic

2

Potatoes

8

Black olives

15

g

Sprockets

4

tablespoons

White wine

Parsley

Oregano

Olive oil

Black pepper

Salt
Instructions
Cut the potatoes into small cubes

Put them in boiling water with a teaspoon of salt until they come back to a boil, strain and set aside

Cut the tomatoes in half

Toast the pine nuts in a paella, until they start to brown

Prepare the fish dressing with a teaspoon of chopped parsley and garlic, a teaspoon of oregano, salt, olive oil and a little pepper

Smear the gilthead bream with the dressing, especially the inside

Spread the potatoes with olive oil, salt and a bit of pepper

Heat the oven up and down to 180 degrees

Put the potatoes, tomatoes, olives, capers, pine nuts and sea bream in the oven for 20 minutes

Halfway through cooking, sprinkle the fish with the white wine

Important: The cooking time is a guide and to obtain a juicy point of the fish. Depending on the oven, it may take a little longer or shorter. Check the cooking!